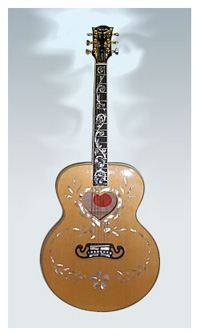 Gibson Imperial J 200
One of the most popular photos of me during the Works period shows me playing an acoustic guitar with a "heart shaped" sound hole in the center. The Heart Guitar from that era was custom made by Zematis in 1975. It was a great looking guitar, but I never liked its sound much. I got frustrated with the sound and the tuning one night and lost my temper. I threw it on the floor and jumped on it. Shades of Pete Townshend!
Through the years, people have continually asked about the heart shaped guitar. When I began discussions with Gibson over a new "Greg Lake" model J200 acoustic guitar, I thought how nice it would be to re-create the look of the original Zematis guitar with the superior sound quality and and workmanship of a Gibson. That is what we were able to do. This guitar is sensational, and features not only incredible workmanship and quality, but amazing pearl inlay work. Gibson custom made this guitar for me in June and delivered it the next month so I could use it on the RINGO STARR & HIS ALL STARR BAND tour. In the future, I hope to have a version of this guitar available to the public through Gibson, which would be called the Imperial.